A lot of the work I do is very customized. A part of this project was to design a table for my client that fit into the breakfast nook corner of a kitchen addition I designed. I had all the dimensions of the space for the table already in cadd and knew all the millwork details since I designed them. The client gave me a list of some pendant light fixtures and chairs they were thinking of using. I needed to design a table that allowed the use of these chairs where the chair legs would not interfere with the table base. The table also had to be stable and not tip easy as can happen with some single pedestal bases.
My process was to draw the chairs in cadd and place them in front of the breakfast nook millwork to see what area I had to work with.
The breakfast nook is the far right of the elevation drawing below. I will post another blog about the island design and lighting.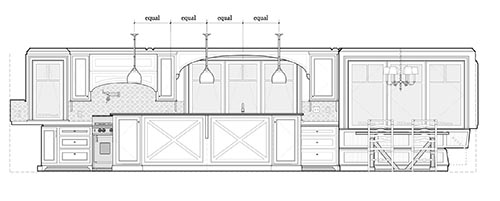 Here are some table bases that I was considering…..
As you can see, I design everything from the table legs to the support stretchers. The drawings are detailed enough that they can be send to various millwork shops for pricing.
This sketch below was an early concept design of the overall kitchen. You can just see the breakfast nook table and chairs in this image. At the time of this sketch I did not know anything about the table or chairs. The focus of this sketch was the overall kitchen design. Notice the lack of pendant lights. That study came later.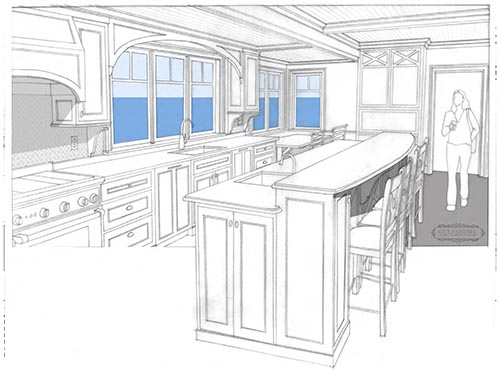 This is what the finished kitchen with table that I designed looks like.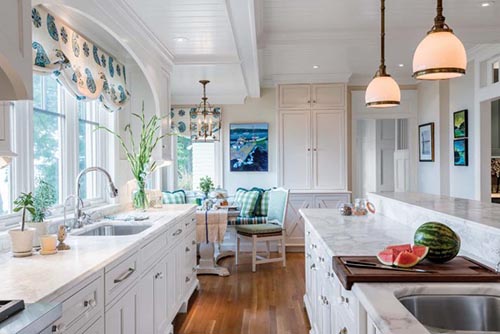 Here's a close-up shot of my table design with one of the chairs that the client had selected. The table has a distressed paint finish with zinc top.