Here's a quick study sketch elevation of a gambrel house with stone veneer along first floor wall. I wanted to incorporate an outdoor fireplace at the patio that overlooks the ocean and also have a fireplace in master bedroom.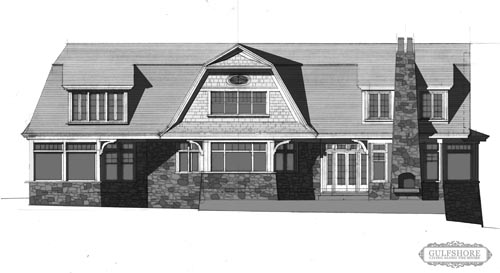 It's so hard to visualize the depth when looking at a straight-on elevation, so I often create perspective sketches such as these. Notice how the chimney changed locations. It was blocking too much of the view. There's a daylight basement on the lower right.
The porch roof over the entry was rather plain as the porch soffit ran straight across like the rest of the porch. Notice the chimney in this sketch. The living room fireplace travelled all the way around the house to the driveway-side. It was just blocking too much of the view, on the first floor, second floor and the day-light basement. The fireplace is actually smaller and located in the dining room. When I drew the arched transom window over 7′ entry doors, I knew I was pushing it close to my second floor framing. I didn't want it to crowd the ceiling too much because I want nice crown molding in foyer.
I did this quick sketch to see what headroom I'd have just inside the entry. There's a wall separating the kitchen and foyer and I decided to install shallower floor joists over the foyer since they don't have to span too far. This gave me just enough room in the foyer for the transom I wanted, plus room for my crown molding. My next step is to see if I can squeeze in some interior leaded glass transoms over doorways and still get plenty of crown molding.
Here's a partial elevation showing arched entry.
Here's the far end of the house showing the three bay garage with cupola. That extension of roof on the left is a small arched roof over the passage door into side of the garage.