I was hired to help a wonderful couple re-imagine a nondescript colonial that had just bought.
The house was obviously designed by a builder with the intent to make it simple and quick to build. Like most spec-house colonials, the stair is dead center in the house making an open floor plan difficult. All the existing spaces were small and chopped up and the kitchen was very small.
Here's the plan as the house existing when I started.
Here's my floor plan sketch of what I wanted to turn it into….
As you can see, I added cubbies to the narrow mudroom and added a coat closet around the corner. I moved the laundry to the second floor so that I could install a new stair to access space over the garage. Previously, the space over the garage was unfinished and the owners wanted to turn that into a sitting room/home office with direct access from first floor. I took out a number of walls on first floor to create and open floor plan between dining and kitchen. Scroll back up….see those two weird chamfered bay windows? Ugly at best. One good thing the previous builder did, was to install full foundation under these bay windows. This allowed me the opportunity to install a beam from one to the other and push out the entire rear face of the house along new dining room and kitchen. If you look closely at my plan sketch, you can see the old bay window locations dashed in.
Here's what the tiny kitchen used to look like….
Here's what I turned it into….
The dining room table is just in the foreground of this photo above. In the upper left of the photo, you can just see a bit of the large cased opening separating the kitchen and dining.
Here's another view of the new kitchen…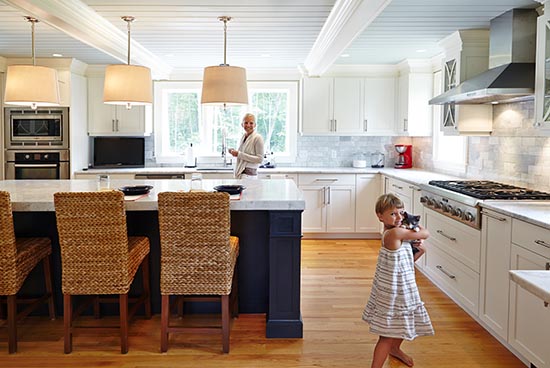 The photo above was taken from the doorway at living room. The photo below shows a pair of sliding vintage doors that open to the kitchen. The owner took two old doors and stripped them himself. They came out awesome!
The second floor of the house was just as horrible and plain as the first floor. Unfortunately, I don't have many photos of it now that it is complete. I need to get back there and take some.
Here's a photo of the old master bath. Extremely weird layout that was very "cold." It's just a corner shot of part of the bathroom, but you get the idea of how bad it was.
Here's a couple of rough photos of the change….