I had posted about this project before, but following are some recent photos given to me by the owners and the GC.
My clients had bought a piece of land in Rangeley, Me and wanted to build a cabin on it. There is another project of mine in that area that they really liked and wanted something similar. The land they purchased had two old log cabins and they weren't sure if they were worth saving. I convinced them, that the only way they are going to get the vintage look and patina of the old wood is to keep the buildings and work with them.
My design converted one cabin to the cathedral ceiling living room and the other cabin became the kitchen and dining room. We then added a new addition to the back, along with a new garage.
The first photo is what we started with.
We moved the cabins out of the way and poured a new foundation and rolled them back onto it. The cabin on the right was rotated 90-degrees so that the ridge would be opposing the other cabin ridge.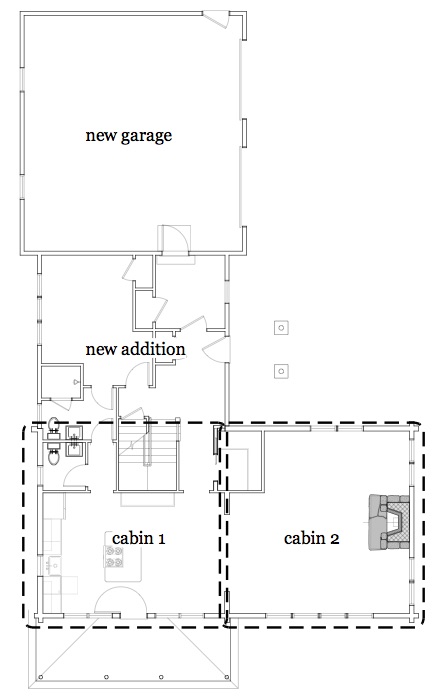 The existing cabins had a top-plate-elevation of only 7′, so decided to add a row of two to three logs at the base of the cabins to raise them up. These old cabins tended to have rather "light" roof framing, so we framed a new roof assembly over the existing. This gave us the chance to add much needed insulation and left the old logs and framing exposed on the interior. The section below shows the roof framing and a large new fireplace and chimney.