This is a new project that I am working on up the coast. My clients have an old house on oceanside property that the extended family uses off and on through out the year. The house is tired and in need of some updates including a mudroom, new kitchen and large family room with view of field and ocean beyond.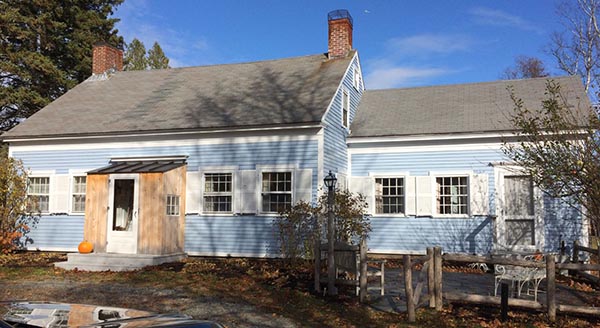 The process on a project like this is to measure the entire existing structure and put it into cadd. This gives me an accurate, to scale print-out that I can then use to sketch over. I will then go through a tremendous amount of trace paper as I work through different design ideas. While I am sketching I am also keeping in consideration what I saw for existing framing, plumbing and electrical. I do not like to design "in the dark" and then figure out how to accomplish it. That approach sometimes works and can result in great unexpected design ideas, but for the most part my  clients have a budget in mind and want me to be careful with it. To that end, I am always thinking about the grading, the views, the framing, utilities etc. while I sketch.
The plan sketch below is a typical sketch that a client would see from me and the tags correspond to a long email that "walks" them through each space along with my thoughts.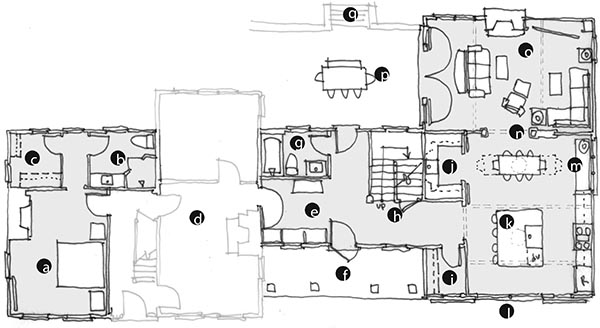 Below is a front elevation sketch. I had a rough vision of this before drawing the plan and it solidified as I advanced the plan drawing above. I knew I wanted some sort of barn-like addition but didn't want it to overpower the little house. The barn idea also gives us the option to easily introduce a new siding material without having new clapboards look odd against the old clapboards.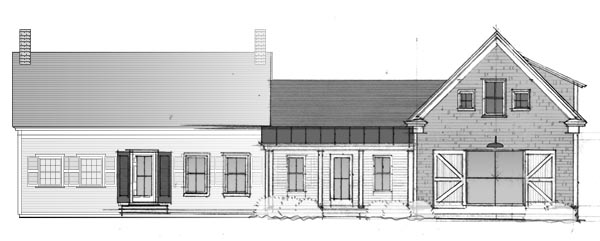 The elevation below is not shown at the same scale as the sketch above. This elevation is to the right of the elevation above. The grade at the site drops away to the right of the old house, providing a perfect spot for a garage under the new addition. This would mostly be used for longer term car storage and seasonal lawn furniture and boating equipment.
The grade rises back up along the rear of the house.