Millwork
Here's a photo of my conference table that I designed. The legs are maple and the rest if paint grade poplar. This table is 36″ tall which is a nice height to stand or sit at. This table is based upon one that  designed for client who had a narrow kitchen. They wanted a kitchen table and also a kitchen island. The table I designed for them had a stained oak top and the base was white-washed. What I like about tables at 36″ is that if one person is seated and another person is standing, you don't feel like your down near their feet when sitting. The higher height puts you on a better eye-to-eye level. Works great for those people who have get-togethers and everyone ends up in the kitchen standing around.
If anyone is interested in buying one of these tables or having one designed, please contact me.
I've been toying with the idea of selling some limited millwork pieces; such as vanities, medicine cabinets and harvest tables. What prompted the idea, is that over the years clients have given magazine photos of vanities and other millwork from Pottery Barn and Restoration Hardware catalogs and we have been able to have them made locally and for less money. The similar style millwork I've designed is made with solid wood not mdf and the locally available stone for the counters is way way less expensive. Shipping alone on some of the products is just ridiculous. So why not compete with the mail order companies, by offering something that costs less, is built better, made local and if you pick it up – no shipping costs.
It' just an idea. Here's a couple examples;
Here's a wall mounted (not recessed) medicine cabinet and vanity from Pottery Barn. The medicine cabinet costs $250 plus $25 for shipping. The vanity console including 3/4″ marble top and sink is $1,600 plus $160 for shipping.
Restoration Hardware sells a similar style. The wall mounted medicine cabinet costs $229 plus $21 to ship. The vanity console (including sink, but no top) is $800 (on sale right now for $680). The carrara marble top costs $1,000. Shipping of vanity with marble top costs $177.
I created millwork drawings for a similar style medicine cabinet and vanity.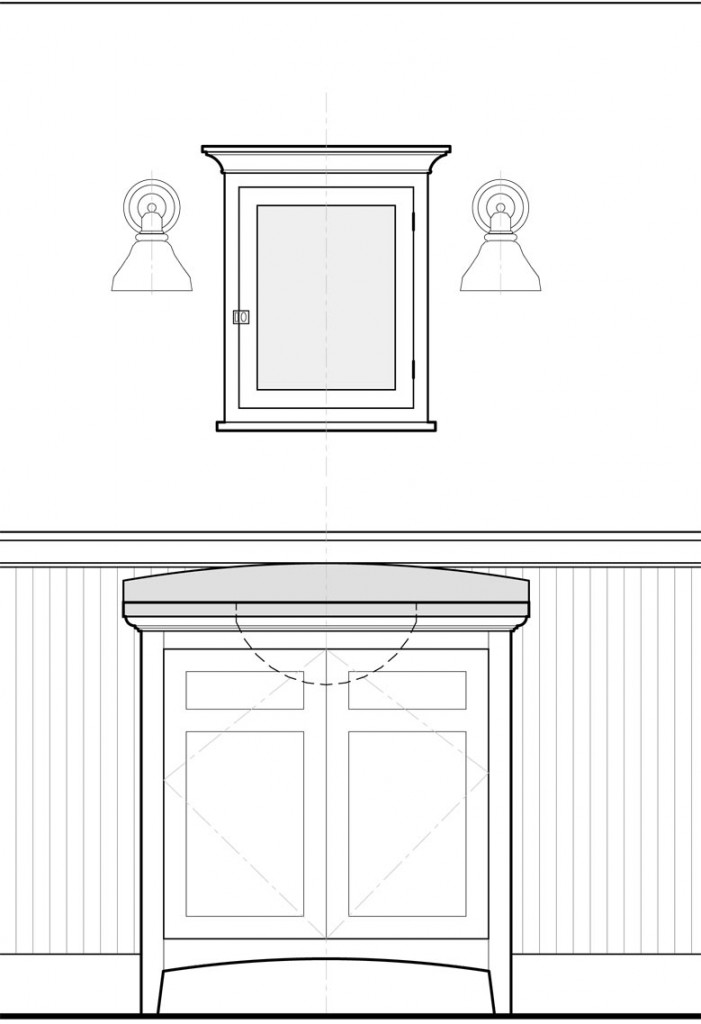 Here's the medicine cabinet and vanity after being installed. My photo is not as fancy as the catalog companies (but I'm working on that). The wall sconces had not been installed yet when I took this photo.
Here's a photo of the downstairs powder room with same wall mounted medicine cabinet.
Here's the cabinet I had designed and built locally.
The hinges are adjustable and probably are on the Pottery Barn and Restoration Hardware cabinets too.
The interior shows a single adjustable shelf. Could be a couple shelves and the shelves could be glass.
No mdf or particle board construction. All solid wood. Rear panel is birch plywood which is a solid and dimensionally stable product.
I noticed that the vanity bases from Pottery Barn and Restoration Hardware have open backs. So when you look underneath, into the cabinet, there's no back. You'll just see the wall. The vanity base I designed was installed with a solid back (so your stuff doesn't fall down between vanity and wall) and the contractor cut a hole through rear panel to connect to plumbing.
The medicine cabinet I designed cost $175 and the vanity base cost $750. The sink was about $100 and the carrara top about $350. Pricing has probably gone up some since then and I will try to post updated pricing once I get it from the millworker.
I have a number of other furniture items that I have designed over the years and will try to post them, along with their pricing.